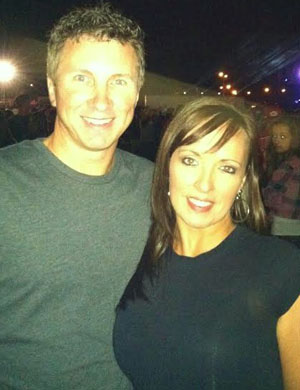 Derek Churchwell
Married: Crissy
Children: Samantha
Residence: Perry, GA
Education: Valdosta State University, 1989 Bachelors
NHRA pro stock motorcycle professional engine builder and custom VTWIN engine designer Derek Churchwell has been involved in various types of motorsports for more than 29 years. During college Churchwell began working on race cars as a fabricator, chassis builder and as a crew chief for a dirt late model race team. Derek's engine building career began in 1995 were he spent 19 years with one of the top NHRA motorcycle teams. During that time Churchwell built engines for over 50 NHRA national event wins, 4 NHRA championships, 3 AMA Prostar championships and numerous number one qualifiers in both series. Drivers during this time include the late great John Myers, Angelle Sampey, Matt Smith, Chip Ellis, Chris Rivas and many more. Churchwell's passion for the V-twin engine began in 2004 where he started working closely with S&S Cycle blueprinting the 126 and 145 Twin Cam Harley replacement engines and went on to assemble the first ever S&S Cycle Pro Stock billet v-twin engine to win an NHRA race. Churchwell continues to give back his engine building knowledge to the public as a contributing writer for Engine Professional Magazine and has had his photography work published in American Iron, Two Wheel Tuner and Sport Rider Magazines. He has several television appearances to his credit with Discovery Channels biker build off with LA Chop Rods, Power Block Television featuring the S&S Cycle 50th anniversary bike build giveaway and Horsepower TV's coverage of the S&S Cycle 126 twin cam engine build. Over the past ten years Derek has worked closely with customers from New Zealand to Russia and countries all over the world selling S&S Cycle engines, numerous custom bike builds as well as performance engine modifications. Now Churchwell is taking his experience in custom engine and bike building and brining it to you with DCVTWIN and DC Performance. Your bike is special and deserves the attention to detail that only Derek Churchwell can give. From a general question, performance motorcycle part or even a custom engine build, it's just as easy as a phone call. Talk to the expert today about your motorcycle needs. Call 478-988-4313 because YOU deserve the best.
---
THE COMPANY
We believe that great service is great for business, so we formed DCVTWIN in conjunction with DC Performance to deliver outstanding customer support to you - the motorcycle rider. Our loyalty is to you, so we will strive to form a long-term relationship with you through honesty and integrity. At DCVTWIN you will have someone who understands your needs and that will think outside the box to satisfy them. DCVTWIN is the only all inclusive company that can exceed your performance parts, horsepower upgrades or replacement engine requests in the motorcycle industry. While having a rich and successful history in the world of professional motorsports means only the best will do, we will give you and your motorcycle that same race winning attention to detail. Yes - now YOU have a friend in the business. Talk to someone who cares about your motorcycle needs today. DCVTWIN the home of excellence and innovation.
Championship service is ready for you now. Pick up the phone and call 478-988-4313 today.
Emails are also welcome and will be promptly replied This email address is being protected from spambots. You need JavaScript enabled to view it. or This email address is being protected from spambots. You need JavaScript enabled to view it..