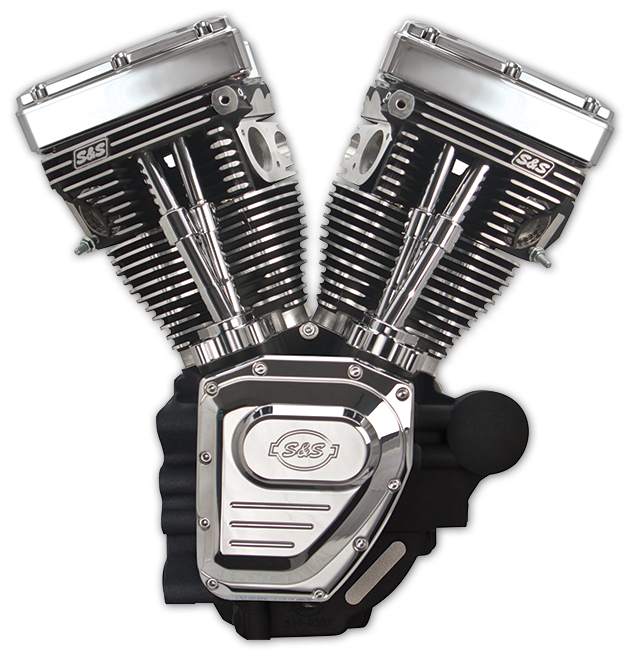 If Bigger is Better, the S&S Cycle 143 is the Best…
The BIGGEST, BADDEST, BOLT-IN for a Stock Frame.
All joking about size aside, it does matter. The S&S 143 Long Block engine for 2008-later Harley Davison touring models is the largest S&S engine that will fit in a stock Harley Davidson chassis. It's big, 143 cubic inches. Nuff said.
At double the HP of a stock motor the power of the 143 requires technical expertise for the installation and tuning along with an experienced rider. This is an ultra performance/race engine. Longevity, engine noise, vibration and throttle sensitivity have all been compromised to reach this level of performance while fitting in a stock chassis and as such is not suitable for every situation. It is the purchaser's responsibility to consider the suitability for their application. Engine noise and damage from abuse is not covered under warranty.
Fitment:
2008-later Harley Davison touring models

Features and Benefits:
Fits in stock chassis-no cutting or frame modifications
S&S B3 cylinder heads CNC machined with 2 bolt exhaust flanges
S&X Super Stock T2 Crankcases with reed breather valve
3 Piece Flywheels
S&S high flow oil pump and cam cover
S&S Premium High Performance Tappets
6 months parts warranty
Options:
| | |
| --- | --- |
| | |
| Wrinkle Black Powder Coat Finish | Stone Gray Powder Coat Finish |
---
S & S Twin Cam 143 Harley Replacement Engine Specifications

Chassis Style

Displacement

Bore

Stroke

Cam

Piston Type

Compression Ratio

Warranty

Finish

Part Number

2008-Up Touring Models
143"
4.425"
4 5/8"
635
S&S Forged Flat Top
10.5:1
6 Months
WBlack
310-0548
Stone Gray
310-0549
Requires Oil Line Installation Kit

Description

Part Number

Oil Line Kit
310-0435
Transmission Drilling Fixture Kit
530-0006
Head Mount Bracket
2009-up BT
900-0798
2008 BT
900-0797

Description

Part Number

70mm Induction Kit*
170-0253
Rocket B3 Into 1 Exhaust System
Chrome
550-0535
Black
550-0536
*Includes a 70mm S&S Throttle Hog specially designed for the T143 engine in which a functional, stock,
throttle by wire throttle body must be supplied to build.
This product is intended only for closed course competition use and is not legal for sale or use on CA or EPA pollution controlled vehicles.