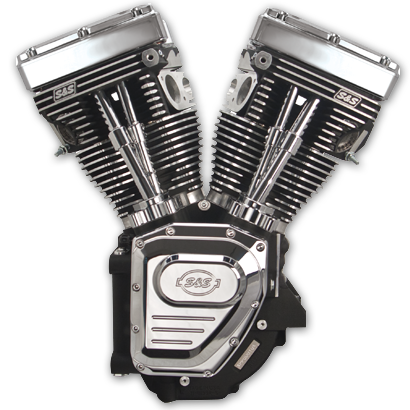 S&S Cycle knows that a lot of riders have already invested in performance upgrades for their stock engine by the time they are ready to move up to a complete big inch Harley replacement engine. Wouldn't it be nice to be able to save some money by using some of those items on your new S&S Harley Replacement engine? Well now you can!
S&S Cycle is offering T-Series Harley Replacement engines for 1999-'06 big twins without fuel or ignition systems. The S&S Cycle T111, T124 and T124LC Long Block Harley replacement engines will bolt directly into your stock touring chassis with no modifications and if you have already added a performance carburetor or an EFI throttle body and tuner to your stock engine, you can use it on your new engine. A carb or throttle body that fits a stock engine will fit the new S&S Harley Replacement engine because the heads are specially machined to compensate for the increased cylinder length so a stock length manifold will fit. If you've installed a performance ignition or EFI tuner, you can possibly use it too.
The T111 Harley replacement engine is the ultimate sport touring engine, while the T124 Harley replacement engine is just what you need for a hot rod bagger. The T111 Harley replacement engine has a 4.125 bore and a 4.125 stroke for a true square engine making it the smoothest Harley replacement engine available. S&S Cycle is also introducing the T124LC Harley replacement engine is a slightly lower compression version of the T124 with S&S Cycle 640 Easy Start gear drive cams that is ideally suited for heavier bikes and trikes, plus it's more tolerant of variations in fuel quality.
S&S Cycle offers the T111 and T124 Harley replacement engine to replace the stock carbureted engines from 1999-'06 or fuel injected 2002-2006 engines. S&S Cycle T111 and T124 Harley replacement engines are available in silver powder coat, wrinkle black powder coat, and polished finishes. Match the original engine in your bike or go for a custom look.
S&S Cycle T111 and T124 engines are designed to replace the existing Harley Twin Cam 88 engine in a stock chassis, making it easy to get the performance you want from your late model motorcycle. Take the stock engine out and put an S&S Harley replacement engine in. It's that simple.
Due to the changes in S&S Cycle crankcase design, installation of an S&S Cycle T111 and T124 Harley replacement engine in 1999-2005 Dyna models require oil line installation kit #31-0424. For installation in 2000-2006 FLT models oil line installation kit #31-0425 is required.
Call DC V-Twin today to learn more about making your bike the best it can be with one of the new S&S Cycle Harley replacement engines. Whether you go with the T111 for cruising cross country and around town or you choose the T124 for ripping up the asphalt with maximum power S&S Cycle and DC V-Twin has you covered. Phone DC V-TWIN at 478-988-4313
S & S is also introducing the T124LC engine, which has slightly lower compression and a shorter duration cam set. Lower compression makes the T124LC more resistant to knock and detonation, and promotes better engine life and dependability.
Fitment:
2007-Up Touring Models (except Twin-Cooled™ models)

Features and Benefits:
No fuel system or ignition systems included - Use what you already have
Special Head machining – Fits stock length intake manifolds (S&S manifold size 410)
Stock style breathing system – stock breather spacing and function is compatible with stock and most performance air cleaners
Same quality components and performance as our complete T-Series engines
New S&S cylinders that look more like stock
Super Stock™ heads and crankcases
3-Piece Flywheels
S&S High flow oil pump and cam cover
S&S Easy Start gear drive cams
Options:
T111 – 111 cubic inches, perfect sport-touring engine
T124 – 124 cubic inches, hot-rod performance, 640 Easy Start gear drive cams
T124LC – 124 cubic inches with slightly lower compression, 585 Easy Start gear drive cams
Wrinkle black (WBlack) or silver powder coat finish matches stock components
| | |
| --- | --- |
| | |
| Wrinkle Black Powder Coat Finish | Silver Powder Coat Finish |
---
S & S T-Series Harley Replacement Engine Specifications

Engine Name

Displacement

Bore

Stroke

Cams

Piston Type

Compression Ratio

T111
111"
4 1/8"
4 1/8"
585GP
S&S Forged
9.8:1
T124
124"
4 1/8"
4 5/8"
640GP
S&S Forged Flat Top
10.8:1
T124LC
124"
4 1/8"
4 5/8"
585GP
S&S Forged Dished
10.2:1
S & S T124 Harley Replacement Engines Without Fuel & Ignition Systems

Chassis Style

Cam

Compression Ratio

Warranty Period

Finish

Part Number

1999-2006 BT, Except '06 Dyna®
640
10.8:1
1 year
Silver
310-0281
WBlack
310-0282
585
10.2:1
Silver
310-0327
WBlack
310-0326
S & S T111 Harley Replacement Engines Without Fuel & Ignition Systems

Chassis Style

Cam

Compression Ratio

Warranty Period

Finish

Part Number

1999-2006 BT, Except '06 Dyna®
585
9.8:1
1 year
Silver
310-0279
WBlack
310-0280
Requires Oil Line Kit

Fitment

Part Number

1999-2005 FLT Models
31-0425
1995-2006 Dyna® Models

31-0424