The best cam for a Milwaukee Eight engine depends on what you expect out of the motorcycle. DC V-Twin offers a great all around cam that will provide excellent torque and horsepower through a wide RPM band. This is a bolt in cam that requires no modification to the valve springs and can be installed in a few hours. We have a typical horsepower increase of 37% to 50% or 30 to 40 plus horsepower on a stock Milwaukee Eight. Below are several dyno sheet comparisons of 107's and 114's using our custom M8 cam.
DC V-Twin also offers a variety of additional cams which are available for different applications. For Larger displacement engines a larger lift cam may be desired. If you want a top end only cam then we can select the proper Milwaukee Eight cam to get the job done. You may want something with only low end torque and again we can help select the best cam for you. Just give us a call to find out which cam will best suit your driving style. Call 478-988-4313 today to get your motor running before you head out on the highway.
Below is a graph of a before 107 with slip-ons and an after graph of the same 107 with the DC V-Twin .465 lift Milwaukee 8 cam, Outlaw exhaust and HD stage 1 air Cleaner.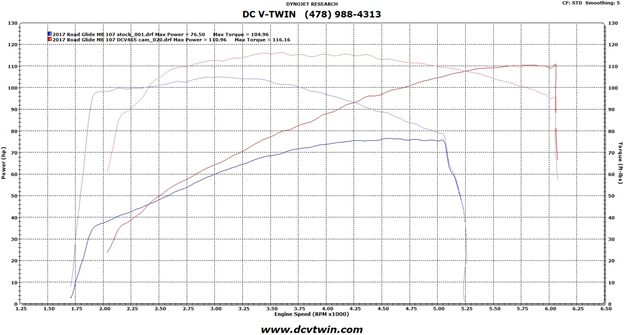 Below is a before graph of the stock M8 114 engine along with an overlay of the same bike with the DC V-Twin .465 Milwaukee 8 cam, S&S Cycle exhaust, and an Arlen Ness stage 1 air cleaner.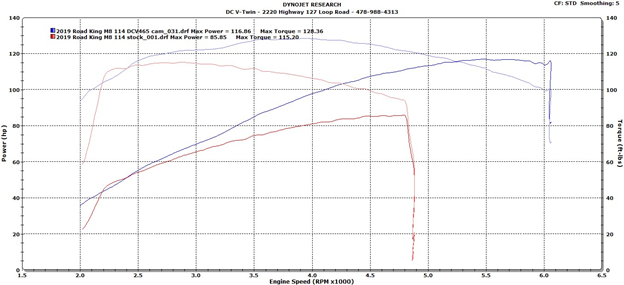 Below is a dyno graph of a 2019 Roadglide with slip-ons for the baseline run and an overlay of the final run adding a the DC V-Twin .465 Milwaukee 8 cam, Bassani exhaust and a stage 1 air cleaner. 40 horsepower gain!!!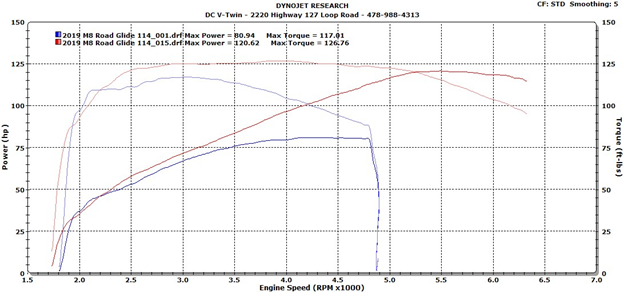 Below is a 2019 CVO 117 stock baseline run and an over lay of the final run adding the DC V-Twin .465 Milwaukee 8 cam, D&D Billet Cat, and the HD heavy breather.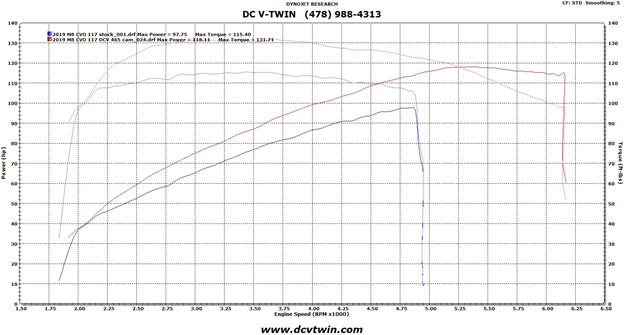 New Milwaukee 8 cams are being tested now for 124"and 128" engines. We even have one for custom 143" Milwaukee 8 engines. Call today to get up to speed 478-988-4313 or email This email address is being protected from spambots. You need JavaScript enabled to view it.
And let DC V-TWIN ENHANCE THE PERFORMANCE OF YOUR HARLEY!