DC V-Twin offers custom cylinder head porting to maximize the overall performance of your engine. No matter what the application DC V-Twin has the correct cylinder port design for you. Whether you need a multi angle valve job to freshen things up, new valve seats to correct an issue or a complete competition racing port. Our expert cylinder head porter has over 35 years of professional performance cylinder head porting experience that will go into your cylinder heads. His knowledge of how to properly reshape your stock ports will increase the air flow and provide significant horsepower gains. Each port is shaped by hand to maximize the efficiency of your cylinder port. No CNC machine can match this type of personal eye to hand expertise. This skillfulness will help you reach your goal to have the absolute best cylinder heads on your engine. Now, going faster is just a phone call away. Do yourself a favor and call now for expert advice from DC V-Twin at 478-988-4313 and enhance the performance of you Harley.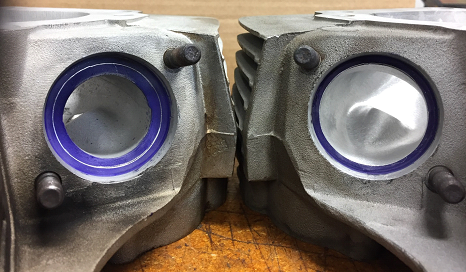 CYLINDER HEAD PORTING BEFORE AND AFTER ON HD HOOLIGAN EXHAUST PORT
Every application requires a specific port design to match the goals of the end user. Twin Cam and Milwaukee 8 cylinder head ports are totally different and require specific cylinder head porting to achieve the maximum efficiency. Below are several cylinder head ports from Harley Twin Cam 107 upgrades and CVO 110 to 113 upgrades. As you can see, exceptional detail and design is implemented to each area of the port.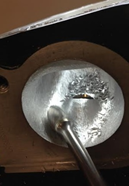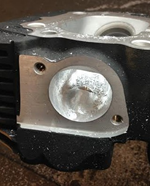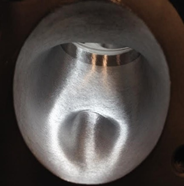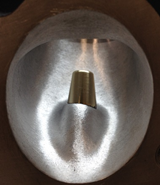 TWIN CAM 107 INTAKE PORTING FROM START TO FINISH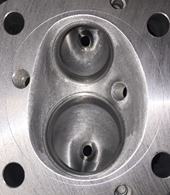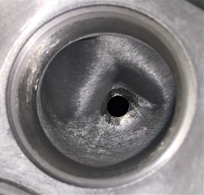 AMAZING LOOKING CVO 110 CYLINDER HEAD PORTING WITH STOCK GUIDES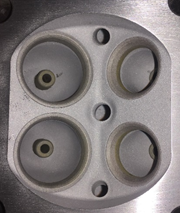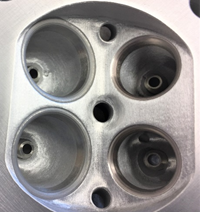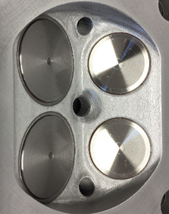 <
MILWAUKEE 8 CYLINDER HEAD PORTING AND NEW OVERSIZED VALVES INSTALLED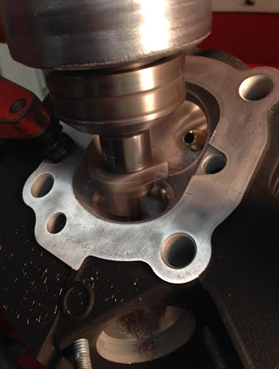 SERDI TOUCH UP VALVE JOB ON 107 TWIN CAM PORTED CYLINDER HEAD
Cylinder head porting refers to the process of modifying the intake and exhaust ports to improve the air flow. Cylinder heads, as cast by the manufacturer, are usually suboptimal due to design and manufacturing constraints. Porting of the heads provides the finely detailed attention required to bring the engine to the highest level of efficiency. More than any single factor, the cylinder head porting process is responsible for the high power output of modern engines.
The cylinder head porting process can be applied to a standard factory production engine in the same manner it is applied to a racing engine. While the level of porting will vary for each application, the results will be the same. Porting of the cylinder heads will enhance the power output of each engine for daily use or a particular racing application.
Understanding of these air flow characteristics is critical to cylinder head porting. Daily human experience with air gives the impression that air is light and nearly non-existent as we move slowly through it. This is not the same exposure an engine running at high speed experiences with air flow. It senses a totally different substance. In the context of an internal combustion engine, air can be thought of as thick, sticky, elastic and even heavy. Pumping air becomes a major problem for engines running at speed. This is why cylinder head porting is so critical to enhancing the performance of any engine.
It is also why cylinder head porting by hand is so significant. This art has only been mastered by a few people. CNC machines at best can only reproduce a generic version of a hand port. Core shifts from the factory, alignment of the cylinder heads in the machine, along with tooling discrepancy can alter the results severely. Most all CNC ported heads are digitized off a cylinder head that has been hand ported by a professional head porter, but can only be reproduce to around 85% accuracy. The CNC heads are typically mass produce to decrease cost while having a modest gain in air flow. For those individuals and race teams that require the best, only had ported cylinder heads will work. It is much better to have an accurate cylinder head port that has been specifically designed for your cylinder heads. For answers to any questions you may have please feel free to call DC V-Twin at 478-988-4313 or shoot us an email at This email address is being protected from spambots. You need JavaScript enabled to view it.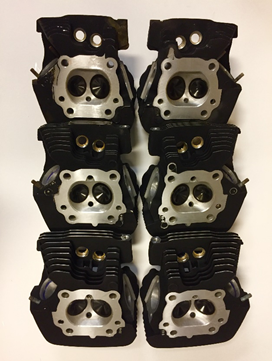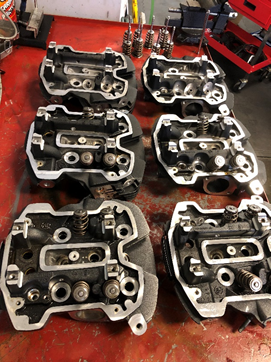 It is popularly held that enlarging the ports to the maximum possible size and applying a mirror finish is what cylinder head porting is, however that is not so. Mirror finishes on the port walls does not provide the increase that intuition suggest. In fact, within intake systems a somewhat textured surface on selected areas is desired. A uniform roughness, if you will, can provide an altered flow path by energizing the boundary layer and in turn speed up air flow. Another reason mirror finishes are not good for cylinder head porting is the interface between the metal wall and the air, the air speed is zero. This is due to the wetting action of the air and all fluids. The first layer of molecules adheres to the wall and does not move significantly. The rest of the flow field must shear past, which develops a velocity profile across the duct. For surface roughness to impact flow appreciably, the high spots must be high enough to protrude into the faster moving air toward the center. Only a properly hand textured surface can do this in the correct areas. This is just another reason race teams in particular have the final version of their cylinder heads hand ported by a professional and so should you. Call DC V-Twin 478-988-4313 or email us at This email address is being protected from spambots. You need JavaScript enabled to view it.
In addition to porting cylinder heads for Harley Davidson engines, DC V-Twin can help you with that special project. Just look below for other applications we can help you with.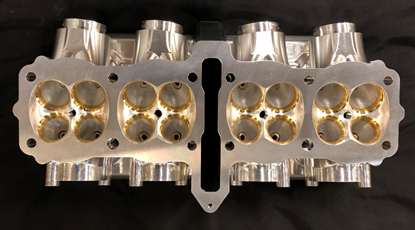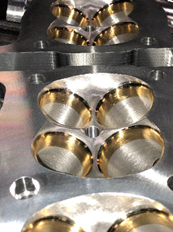 NHRA PRO STOCK MOTORCYCLE 4 VALVE HEAD READY FOR THE 2020 SEASON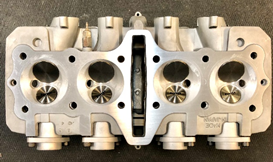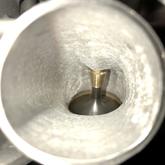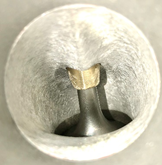 OLD SCHOOL DRAGBIKE KAWASAKI KZ1000 HEAD - INTAKE & EXHAUST PORT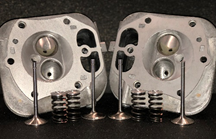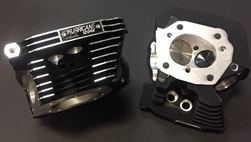 BRIGGS DUCK BOAT HEADS TO AMA SUPERCROSS AND BACK TO HARLEY'S AGAIN DC V-TWIN CAN ENHANCE THE PERFORMANCE OF YOUR ENGINE CALL 478-988-4313