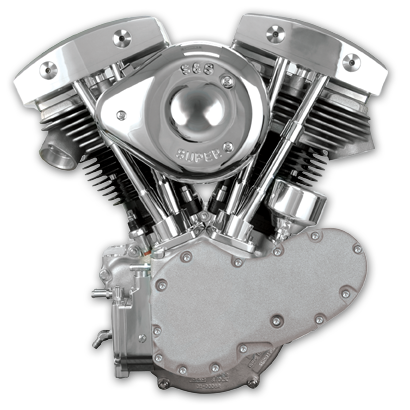 The SH103 is the largest production engine that S&S and Flathead Power™ offer for shovels. This engine features forged pistons with a compression ratio of 9.7:1, a Super G carb, and dual plugged heads. Unlike the SH93 and SH93H, the SH103 engine will not fit in a stock frame without modifications because the overall height of the engine is .300 inches taller than stock. This engine is recommended for high performance applications. This engine is not for everyone!


Shovels 93 Engines
SH93 engines feature forged pistons with a moderate compression ratio of 8.5:1 and a Super E carb. The SH93 is a good choice for daily riders, and is great for touring applications.


Shovels 93H Engines
SH93H engines are an excellent choice to replace a tired shovelhead engine, and boost performance at the same time. Modern features such as late style hydraulic valve train, polished billet rocker covers, forged roller rocker arms, and a single fire electronic ignition, combined with larger displacement, add up to a powerful and dependable engine package.
Fitment:
1966-'69 stock chassis electric start with alloy primary – flat side gear cover and flat timer cover
1970-'99 stock chassis with alternator style primary
1970-'99 alternator/generator and alternator custom versions custom bikes with 1970-'99 alternator style primary
Features and Benefits:
Natural crankcases and black powder coated cylinders
S&S hydraulic valve train and roller rocker arms
S&S Super Stock™ single fire ignition system
1966-'69 models have correct length sprocket shaft for stock primary and transmission
Alternator and alternator/generator models have correct sprocket length sprocket shaft for 1970-up primary and transmission
Alternator/generator engines include oil filter mounting bracket for generator location
Two-year warranty


Options:
93", 93" high compression, and 103" displacements
Stock style generator, alternator/generator, or alternator crankcases

---
SH-Series Engine Specifications

Engine Name

Displacement

Bore

Stroke

Carb

Cam

Piston Type

Compression Ratio

SH93
93"
3 5/8"
4 1/2"
Super E
585
S&S Forged
8.5:1
SH93H
93"
3 5/8"
4 1/2"
Super E
600
S&S Forged
9.1:1
SH103
103"
3 5/8"
5"
Super G
600
S&S Forged
9.7:1
Complete Carbureted SH-Series Engines

Engine

Application

Style

Billet Gearcover

Cast Gearcover

SH93
1966-'69 Chassis
Generator
- -
31-9906
1970-'84 Chassis
Alternator
31-9905
31-9904
Custom
Alternator/Generator
31-9979
31-9917
SH93H
1966-'69 Chassis
Generator
31-9978
31-9909
1970-'84 Chassis
Alternator
31-9908
31-9907
Custom
Alternator/Generator
31-9980
31-9918
SH103
1970-'84 Chassis
Alternator
31-9919
- -