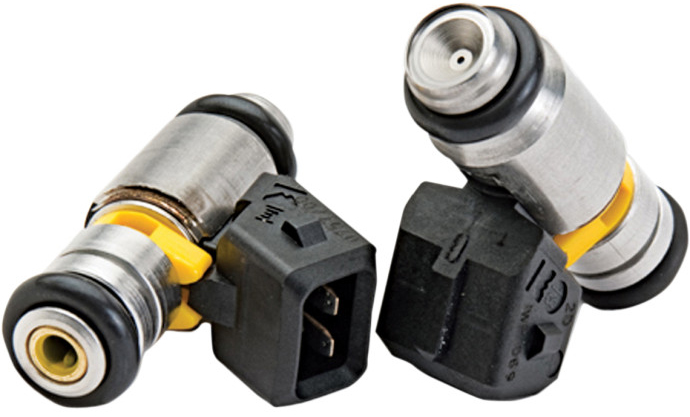 The Yellow Band fuel injector is a must for big cubic inch Harley engines. DC V-Twin has used the Yellow Band fuel injector with all of its custom engines ranging from 120 horsepower to over 200 rear wheel horsepower.
At 6.2 GPS (grams per second) these injectors can deliver the fuel you need to power up your performance engine. That's more than a 40% increase over the stock injector. The yellow band injector is a direct bolt in for 01-05 Harleys and 08 and later Fly By Wire Harleys. The yellow band injector can also be used with some 06 and later cable operated bikes with minimal effort using 05 HD connectors and fuel rail.
The yellow band injector has been used by many of the top engine builders for years and now you can buy them directly from DC V-Twin. If you have a custom engine build in the works or if you just need replacement injectors, DC V-Twin offers the best in fuel injector selection with some of the best pricing available.
Even if you need a fuel injector for a custom car build or some other performance application, DC V-Twin can locate the correct fuel injector and give you competitive pricing.
Give DC V-Twin a call today with the make and model of your bike and they can find the injector or fuel pump you need to make your Harley engine build the best it can be. DC V-Twin ships worldwide daily and no order is too small or large. Call now at 988-478-4313
MAGNETTI MARELLI WEBER YELLOW BAND INJECTOR
$229.00 a pair
46lbs/min @ 43.5 PSI or 3 BAR
Resistance: 13.7 ohms
Voltage: 8-15 Volts, nominal 13.5 Volts
Amperage: 1.0 Amps
Pressure: Min 30PSIG/ Max 100PSIG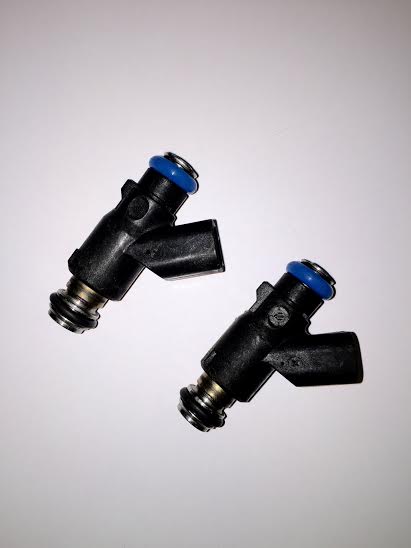 DC V-Twin also has injectors for Harleys with cable driven throttle bodies. The 2006 and up cable driven Harleys need this performance injector if you are making over 120 horsepower. Big inch 107 upgrade kits can benefit from this new injector for Harley's. It delivers fuel at a rate of 5.3 gps (42.06lbs/H). This is the hottest injector going for any cable driven 2006 and up Harley that need more fuel flow to make major horsepower. Call DC V-Twin today for the best injectors for Harleys at a great price.
$169.95 a pair
BLUE BAND INJECTORS FOR HARLEYS
DC V-Twin is now offering the bike owner with a turbo or super charged engine the best injector available. It's a blue band injector that flow 8.6 GPS at 60 PSI. These high flowing injectors are a direct replacement for 2001-2005 cable driven bikes and 2008 and up throttle by wire bikes. For questions or to place orders call DC V-Twin at 478-988-4313
$169.95 a pair