DC V-Twin in Perry Georgia is the best place to carry your motorcycle for a complete dyno tune. Our Dyno Jet 250 chassis dyno is capable of correcting any problems you may have with the running of your motorcycle. Once we put your motorcycle on our dyno, we can pin point any issues you may have with you motorcycle. We can then build you a custom map and tune for optimum performance. Your motorcycle is delivered from the factory with a "generic" base map that is "close". Close is not good enough for you or your motorcycle. The base maps Harley Davidson®, Indian®, Suzuki®, Kawasaki®, Yamaha®, or Honda® install can be adjusted to compliment your riding style.
We also have the special tools needed to calibrate your air fuel ratio and ignition timing at different RPM's and throttle positions. This information is gathered on our Dyno Jet 250 chassis dyno. The dyno is equipped with an eddy current brake that allows us to run your motorcycle in road like conditions. The eddy current brake is a device used to slow or stop a moving object by dissipating its kinetic energy. This braking system allows us hold your motorcycle at a certain speed with drag to reproduce any issues you might be having on the street with your motorcycle
If you have an issue at a certain rpm, speed or in a certain gear, then we can go in and investigate what might be causing the problem and make the necessary changes to correct the issue. Most all changes will even improve overall gas mileage.
The dyno is not only used to correct issues with your bike through custom mapping, but it can be used to record rear wheel horsepower and torque numbers. Remember that company that promised you eight horsepower for that new exhaust or five horsepower if you add this air cleaner? Well, the motorcycle dyno will let you know what gains you actually have with any performance upgrades. It's a must to have your motorcycle tuned for optimum performance on a dyno after you make these types of changes, especially with today's fuel injected bikes.
New bikes also come from the dealership tuned to base factory settings. Some of these tunes are on the extreme side as it is just a generic map like we mentioned earlier. These types of base setting can cause "lean" or "rich" conditions and not let your motorcycle perform as expected. Our motorcycle dyno tuning can double check the tune on your bike and keep you running cool. No matter if you have a TTS Race Tuner, Screaming Eagle Super Tuner®, S&S Pro Tune or Dyno Jet Power Commander, S&S Cycle Pro Tune, Daytona Twin Tec or a Thunder Max, DC V-Twin can tune your motorcycle.
We are a certified DynoJet Power Commander tuning center as well as a S&S Cycle Pro Tune Tuning Center.
DC V-Twin is centrally located in middle Georgia twenty minutes from Macon and ten minutes from Warner Robins. Georgia's best motorcycle dyno tuning service is three miles off Interstate 75 at exit 138 and also serves the greater Atlanta area daily.
We are also one of only a few motorcycle dyno's in Georgia that has ran bikes on the dyno from as far away as California. We are "the experts" in dyno tuning coast to coast. DC V-Twin can dyno tune your Harley Davidson®, Indian® or any sport bike on the market today. Call DC V-Twin today to schedule your appointment or discuss questions you may have about the running of your motorcycle. Phone 478-988-4313 for motorcycle dyno tuning service.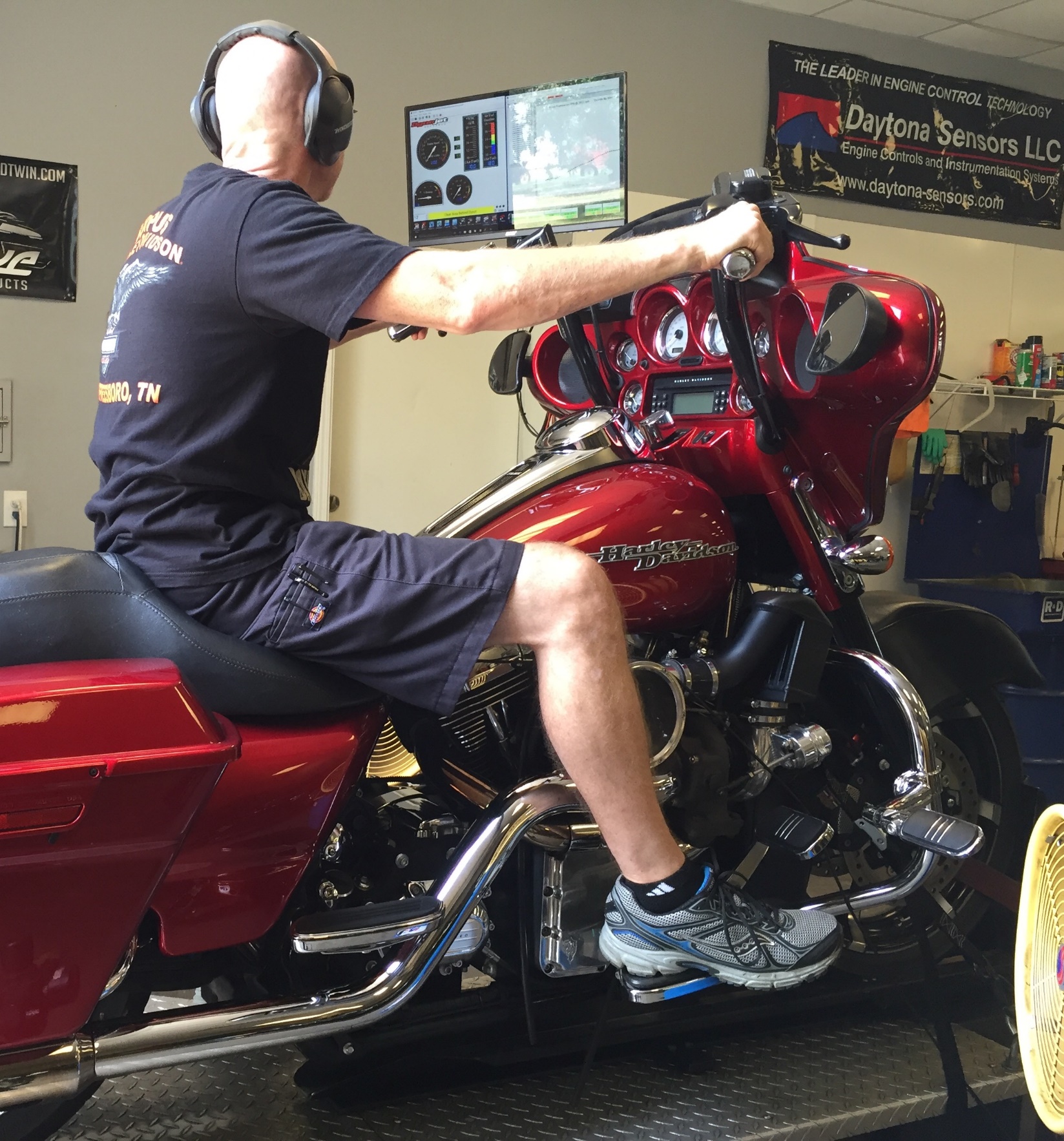 Derrell Mullis is an expert in motorcycle dyno tuning and has over 15 years of experience tuning all types of motorcycles. From Harley Davidsons® to Sport bikes, Derrell is the go to guy in middle Georgia for dyno tuning. Here is Derrell tuning a DC V-Twin 107 Upgrade Kit on a 2014 Street Glide turbo with a Thunder Max. Give Derrell a call today to discuss your motorcycle 478-988-4313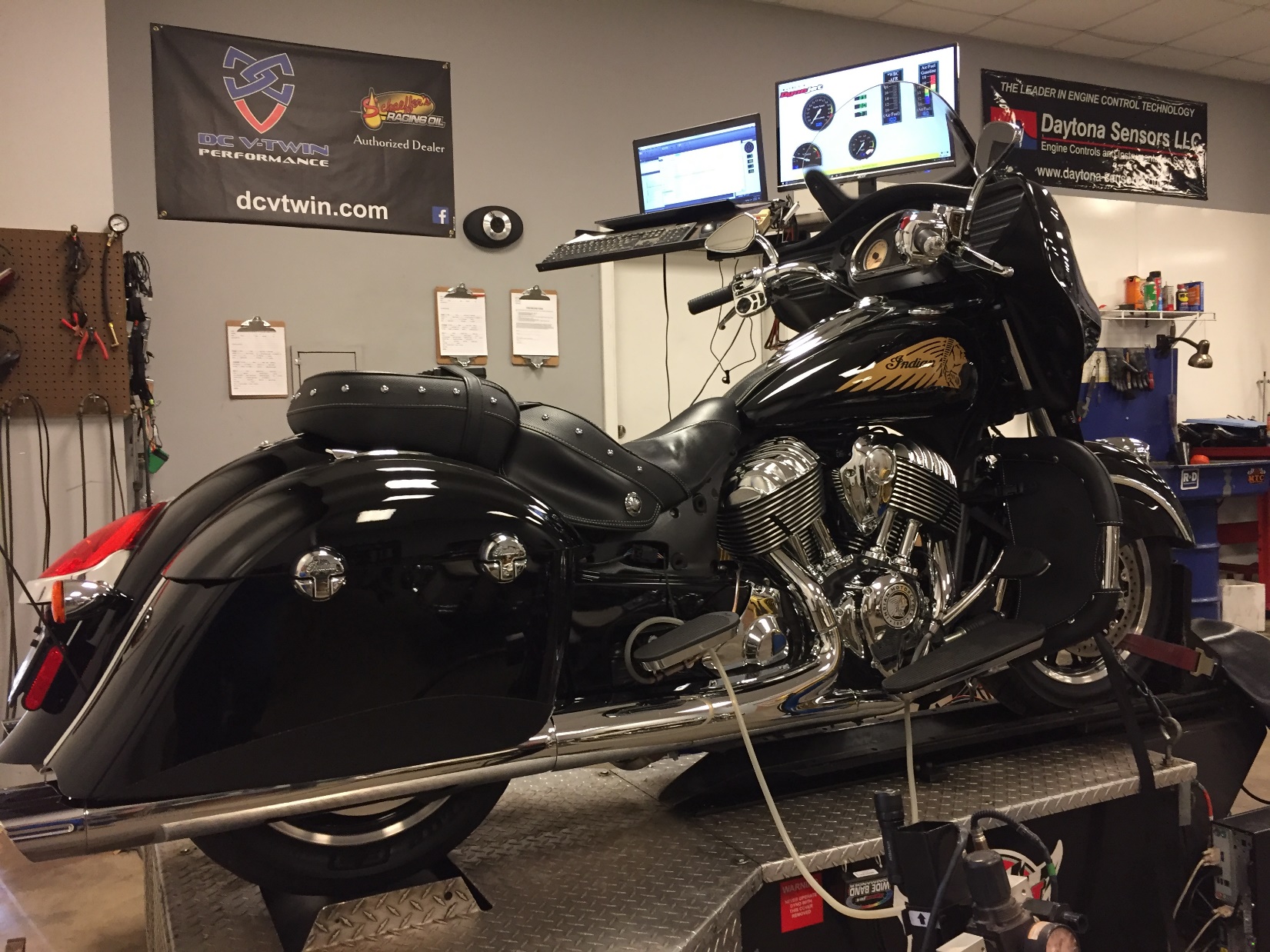 2015 Indian Chieftain® on the DynoJet 250 being tuned with a DynoJet Power Vision CX. The Power Vision CX is newest tuning device to dyno tune Indian Motorcycles. DC V-Twin is one of only a few shops to be able to tune Indian Motorcycles. If you are thinking of adding a stage one air cleaner, stage one cams or a custom exhaust call DC V-Twin today 478-988-4313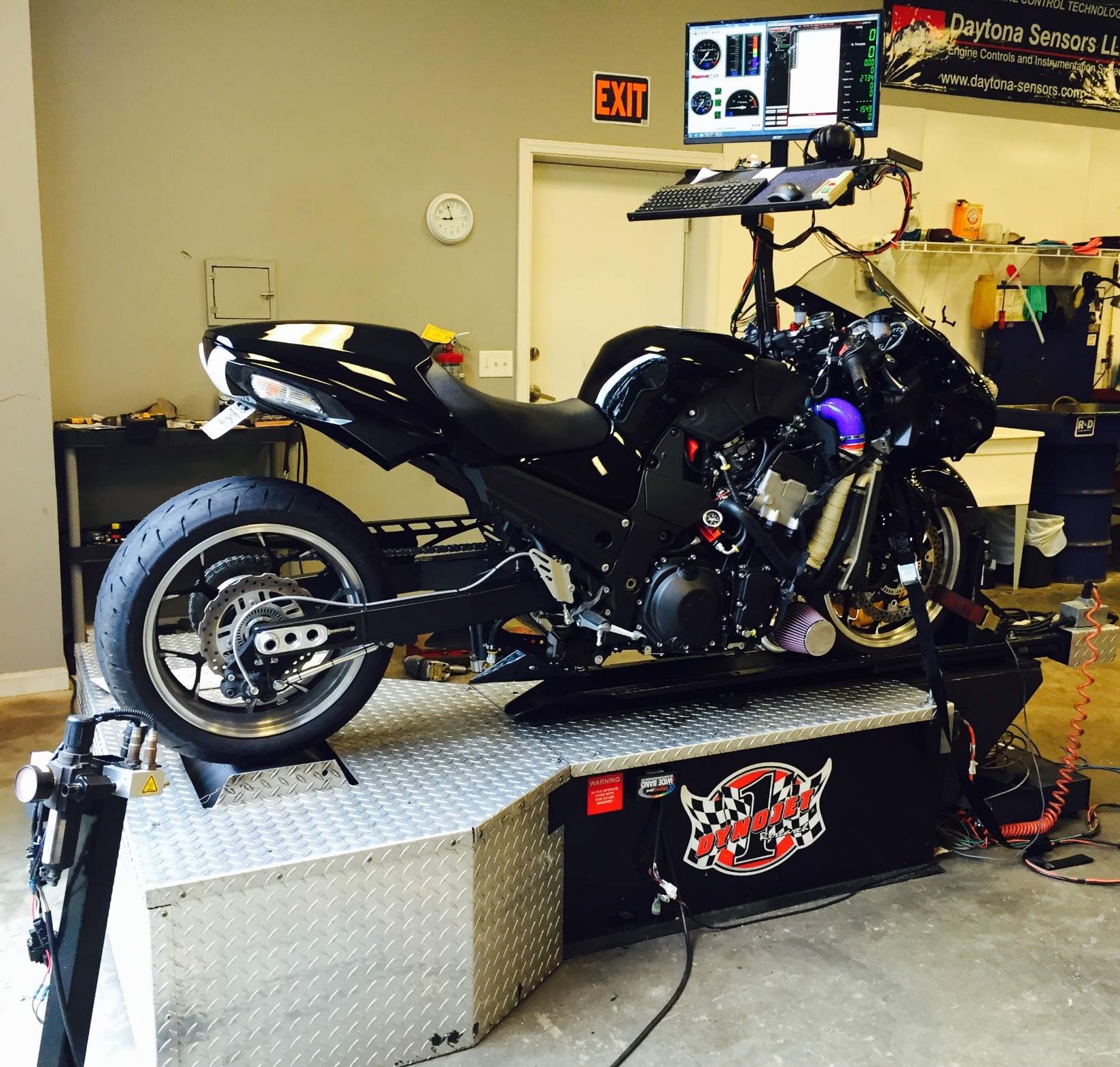 Dyno tuning a 2012 Kawasaki® ZX14 with a custom built engine and turbo. This bike makes serious horsepower. It's crucial to get this bike tuned to perfection. Our DynoJet 250 allows us to do just that in a timely manner. Call 478-988-4313 to get your sport bike on the dyno.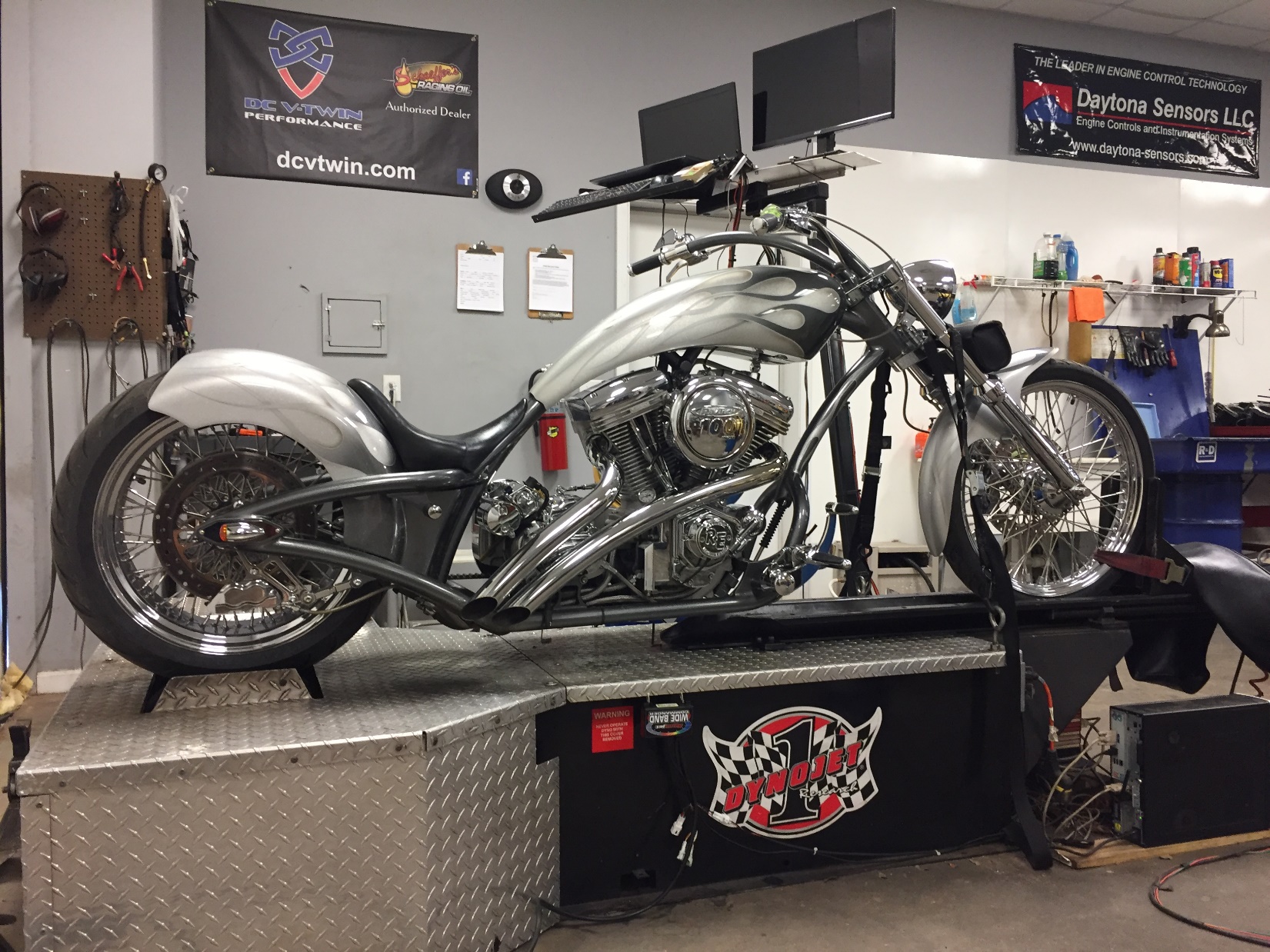 At DC V-Twin we can even dyno the longest choppers on the road today. Here is a Redneck custom bike, getting a carburetor jet check. Our O2 sensors allow us to properly jet any carburetor. Call DC V-Twin today about dyno tuning. 478-988-4313
MOTORCYCLE DYNO TUNING SERVICE FOR HARLEY DAVIDSON®